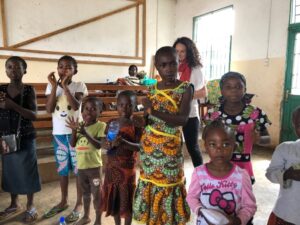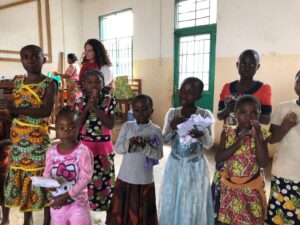 It was a very emotional moment during the farewell ceremony experienced by the teams of psychologists of the "Children of Panzi and elsewhere" and the young girls who are now leaving our program. After three years of psychotherapeutic accompaniment with a rigorous protocol, the girls of phase 1 of the project are now autonomous, stable, schooled and integrated. Our local coordinator has been able to observe their evolution over the years: "The children have managed to socialize with the other children and this has created social cohesion during games and has significantly reduced stigmatization".
The parents present at the ceremony also testified: "The association Les Enfants de Panzi et d'Ailleurs has helped us a lot in the psychosocial assistance. Now our children study like other children in the world without discrimination and all this thanks to the support and consideration that the project has given us. The children are well integrated into the family and the members have understood that what happened to the children is not their fault and that they should not be blamed. The advice we had to understand, assist, and offer affection to our child was very beneficial to us. The organized therapeutic games have allowed our daughters to overcome all the difficulties they had, their lives have changed and they are strong."
This farewell ceremony was an opportunity to offer each girl a loincloth. Even if they "leave" the EPA program, they will remain in contact with the psychologists and will be followed up once a year for 3 years to monitor their progress if their condition does not require urgent intervention.