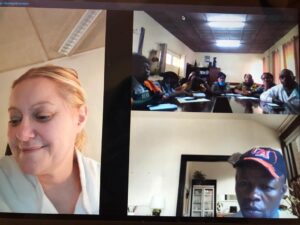 Three years ago, the non-profit organization "Les Enfants de Panzi et d'ailleurs" started the first phase of its program by offering psychosocial support to children under 10 years old who are victims of sexual violence and their families. A 3-year protocol validated by the ULG's psychology department has proved its worth and each child in the first group is now enrolled in school, integrated into his or her environment, emotionally stable and with plans for the future. These children will continue to be evaluated and followed up if necessary, every year for another 3 years.
Since January 2021, a new group of children mainly composed of children from rape is being cared for using the same slightly adapted EPA methodology.
Children born out of rape in the DRC have no legal identity, are stigmatized and often abused. EPA's holistic approach, already well established in the villages, aims to give these children access to a legal identity, schooling, family and social integration, and a possible future. This work also involves accompanying the mother and providing support to create a secure bond of attachment.
This phase 2 of the project, focused on children born from rape, can be concretized thanks to the financial support of the foundation Mankind is my business which acts for the protection of children and the empowerment of women by supporting organizations working in this direction. We warmly thank them for this funding, which comes at a crucial time. Unfortunately, instability in the region persists, rapes continue to claim victims among the civilian population, the bodies of women and girls remain an intolerable and unacceptable battlefield!